Appliance Associates is dedicated to offer the most complete commercial laundry options available in the marketplace. We do this in a way that makes selling or purchasing commercial laundry easy and uncomplicated. We carry some of the best brands and quality products in the industry:


Maytag® Commercial Laundry offers a full range of commercial washers and dryers to the coin, multi-housing, on-premises, and industrial markets.
| | | |
| --- | --- | --- |
| | | From decreased cycle times to shorter drying times, our coin equipment is smartly engineered to save more energy—helping you increase your bottom line. Our broad lineup of products delivers dependable performance that lasts and lasts. Check out the variety we offer to find the ideal machines for your store. |
| | | |
| | | |
| --- | --- | --- |
| How do you make residents feel right at home? With dependable, long-lasting washers and dryers that get clothes clean. And with the communication options of our new Maytag Connect 360°™ system. Plus, with our energy-saving features, you'll benefit from reduced utility costs. Check out our lineup of equipment to find the perfect machines for your facility. | | |
| | | |
| | | |
| --- | --- | --- |
| | | Tough, long-lasting washer/extractors and dryers. Built-in energy efficiency. Dependable Maytag®Commercial Laundry equipment can help your facility operate at peak performance. So you'll clean more laundry faster, simpler, and with fewer staff. Check out the variety in our broad lineup and what it can offer your facility. |
| | | |
| | | |
| --- | --- | --- |
| It's all about handling the massive volume. We get that. But Maytag also knows with the more loads turned, the more things like ease of use, simplicity of programming and energy efficiency add up, cycle after cycle, to deliver huge advantages. Discover the industrial-sized benefits our lineup offers your staff and business. | | |
Visit the Maytag commercial laundry website

Trusting Whirlpool for your commercial laundry needs might seem like a sure thing. After all, it's one of the most recognized names in the industry. But if you need convincing, consider this:
Whirlpool washers and Dryers offer energy efficient equipment that saves money and builds profit
Outstanding features and quality at an exceptional value.
Stylish designs to make your business or facilities attractive.
Visit Whirlpool commercial laundry website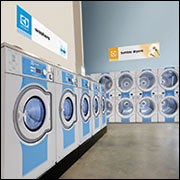 Put the powerful Electrolux brand to work for you with a fully-equipped Electrolux vended laundry.
An Electrolux Professional coin laundry is a complete turn-key package. It includes store design, signage, expert marketing, and world-class Electrolux Professional coin laundry equipment designed to increase profits while dramatically saving water and energy.
Electrolux lets you focus on growing your business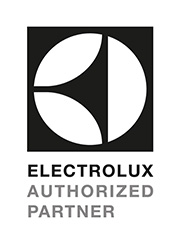 Experienced laundry owners know they can rely on Electrolux Professional Laundry for superior engineering and exceptional design. The long-lasting equipment and parts let you focus on marketing and growing your business. Electrolux High-Speed Washers and Electrolux Energy-Efficient Dryers provide customers with the ultimate laundry experience. Easy to use machines with advance technologies like Compass Pro, EcoPower, PowerBalance, Sanitizing Rinse, and optional text messaging and voice guidance features create customers for life and increase your profits.
PDF Brochures:
Visit Electrolux commercial laundry website

Introduced over 50 years ago, the classic Wascomat remains eternally modern.
Now's the perfect time to open a new laundry or replace old equipment with a brand the laundry industry has relied on for more than half a century. Wascomat Commercial coin laundry equipment is designed for long life, value, quality, and BIG energy and water savings.
Are you looking to retool your coin laundry? The new Generation 7 models are built to last, just like the classic Wascomat models, but now Wascomat washers and dryers are equipped with Compass Pro for easy programming, time of day pricing, and more.
Wascomat Commercial coin laundry equipment gets the job done day-in and day-out with reliability you can depend on. In fact, there are 40-year old Wascomats still working in laundries today!
Brochures:
Visit Wascomat commercial laundry website

The Crossover small chassis washer is a revolutionary product engineered exclusively for commercial use. Prior to Crossover there were two types of washers –  Appliance and Professional.  Now there is the Crossover small chassis washer and dryer – they bridge the quality gap while keeping the price down.
Crossover Small Chassis Washers and Dryers feature:
15,000+ cycle life versus 7,000 cycles for home appliance washers.
CrossBalance technology keeps loads balanced, shortening the time spent doing laundry. No error codes – Crossover washers finish the cycle.
Perfect replacement option for old home appliance washers.
300 G-force extraction and low water consumption to maximize your profits.
Double plus load capacity convenience with easy to use controls that give your tenants a better way to do laundry.
ADA Compliant, CEE Tier 3 compliant, Energy Star rated
Crossover small chassis washers and dryers are available in coin and card vended.
PDF Brochures: